Error: Contact form not found.
Medical science is continually evolving with the primary aim of delivering better outcome of treatment to the patients. With the introduction of more modern treatment modalities, many a time, the cost becomes so enormously high that it fails to reach the general population. The benefits of modernization in treatment with introduction of cutting-edge technologies and recent advances in different interventions, remain far away from the reach of common people. 'Clinica Health' is conceptualized and established by Dr. Purnendu Bhowmik, a dynamic and proficient laparoscopic surgeon with all his skill and experience in modern day surgical interventions with the sole aim to bridge the gap of cost and affordability of patients with limited resource. It is his passion to make modern healthcare available & accessible at an affordable cost that has laid the foundation of this, one of a kind, clinic in Kolkata. Reach out for consultation with – Laparoscopic Surgeon in Kolkata.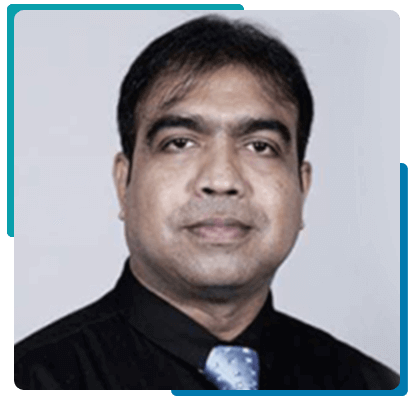 Dr.Purnendu Bhowmik
MBBS(Hons), MS(Surgery), FACS(USA), MRCS (Edinburgh), MRCPS (Glasgow), FMAS(Minimal Access Surgery), FALS(Colo-rectal surgery), FIAGES(Gastrointestinal Endo surgery), FAIS
CC Laser proctology (Poland),
CC Laparoscopic hernia surgery
Advanced laparoscopy, Laser, GI & GI Onco surgeon
Dr.Purnendu Bhowmik is one of the leading gastrointestinal & advanced laparoscopic surgeons in Kolkata. He has been performing complex GI operations (Hepato-biliary,Colorectal,GI cancer surgeries),LASER surgeries for various proctological conditions, as well as, EVLT (LASER surgery for varicose veins) in Kolkata for considerable period with unmatchable success rate.
He graduated (MBBS) from R G Kar Medical College & Hospital (RGKMC&H), one of the most prestigious medical institutions in Kolkata with multiple medals,distinctions and awards for academic excellence. He did his Masters (MS) in General Surgery from Calcutta National Medical College & Hospital (CNMC&H), Kolkata. He later joined Department of Surgical Gastroenterology and Liver Transplant, SDLD, SSKM Hospital, Kolkata as senior resident. He spent almost 2 years there learning and performing complex GI operations throughout his residency period.
He had the opportunity to undergo Fellowship in Minimal Access Surgery (FMAS,AMASI). Then he underwent Fellowships in Advanced Laparoscopic Surgery (FALS) at New delhi and also on Gastro-intestinal Endo Surgery (FIAGES). He also received the Fellowship of Indian Association of Surgeons (FAIS). And finally he was honoured with the prestigious Fellowship of American College of Surgeons (FACS) at San Diego, California, USA.
He later got training in LASER proctology and LASER surgery for varicose veins from Poland. Till date, he has done thousands of cases of laser proctology and laser surgery for varicose veins with impeccable success rate.
He joined Medica Superspecialty Hospital, Kolkata in the department of GI and Advanced Laparoscopic Surgery as Consultant on 2014 and was there till 2018.
Now he practices advanced laparoscopy, laser proctology,GI & GI Oncosurgery in various reputed hospitals in Kolkata..
Opening Hours
Mon to Sat: 8 am – 5 pm, Sunday: CLOSED