Piles are distended veins in the anus and lower rectum. Usually, they occur around the exterior of the anus, but at times, they can also occur internally. Piles affect people of all genders and ages.
A study highlights that individuals between 50-60 years are more prone to piles. If you suffer from piles, a laser treatment can be the best option based on the severity of the condition.
Hence, it's advisable to consult the best laser piles surgeon in Kolkata and minimize complications of all sorts.
What is Laser Piles Treatment?
A laser piles surgery is a surgical procedure that implements a laser beam to minimize hemorrhoids. During the operation, the surgeon uses a particular device that emits intense light energy to shrink the affected tissue.
Laser piles treatment is a minimally invasive method. The doctor implements a narrow laser beam to eliminate the affected tissue without doing any harm to the surrounding healthy tissue. The damaged tissue coagulation or vaporizes owing to the high-intensity light. Laser treatment for piles is a preferred option since it carries a myriad of benefits.
Why Should You Consider Laser Piles Surgery?
According to the best laser piles surgeon in Kolkata, the advantages of laser piles surgery are listed below:
Minimally invasive: Laser treatment for piles is the least intrusive procedure that implements a laser to eliminate the affected tissue. It involves smaller incisions, minimal bleeding, and faster healing than an open surgery.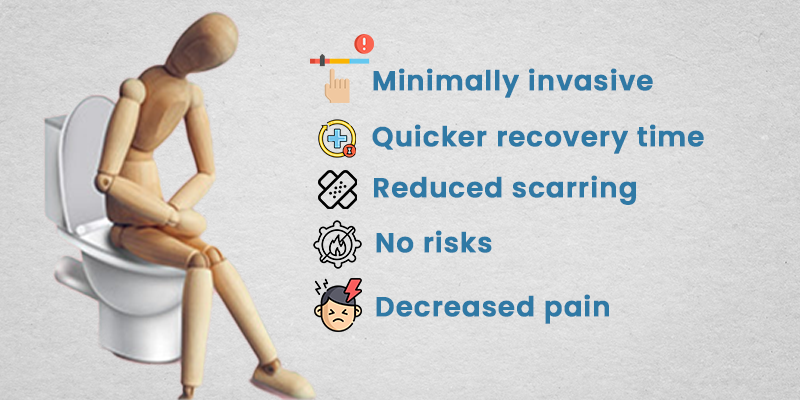 Decreased pain: You won't feel any pain during the treatment. When laser energy is utilized to seal blood vessels, it curbs swelling and postoperative pain. This leads to a quicker recovery, enabling patients to perform normal activities.
Quicker recovery time: This is another major benefit of undergoing laser surgery for piles. Laser piles treatment facilitates quicker recovery times than conventional procedures. Patients have to spend less time in hospitals and can resume daily activities within 1-2 weeks. Get in touch with the best laser piles surgeon in Kolkata to receive more insights in this regard.
Reduced scarring: There is minimal scarring involved in laser piles treatment since this treatment approach includes small incisions. Hence, it's particularly helpful for persons who are increasingly worried about cosmetic outcomes.
No risks: Laser piles treatment carries fewer risks when compared to traditional procedures. The laser treatment targets the concerned area and reduces damage to surrounding tissues. Also, it minimizes infection risks at large.
Wrapping Up
Laser piles treatment is an effective option to address your concerns. Voice your queries to the best laser piles surgeon in Kolkata, and he will give you effective suggestions. Those who are suffering from piles can opt for this treatment since it provides pain relief, prevents the recurrence of piles, and facilitates healing. With this minimally invasive procedure, you can expect quicker recovery coupled with improved quality of life.