Piles, another term for haemorrhoids, is a condition when the veins of the lower anus and rectum become swollen. Piles is a very painful condition and can make the passing of stools uncomfortable and irritating. Patients who suffer from piles doubtless look for a quick solution that can ease the pain.
In most cases, piles resolve on their own. However, in the case of prolapsed piles or internal piles that are bleeding surgery from a laser surgeon in Kolkata may be necessary.
In today's blog, we will take a look at why laser surgery is the right option for those who are suffering from prolapsed piles (piles outside the anus) or internal bleeding piles.
What Is Laser Surgery for Piles?
This is an out-patient procedure in which a laser surgeon in Kolkata uses laser light to remove or shrink the unhealthy tissue permanently.
Benefits of Piles Surgery
There are plenty of benefits of piles surgery. The process is less invasive, requires local anaesthesia, and offers minimal blood loss. Let's take a detailed look at the benefits.
If you are afraid of surgery, then non-invasive procedures such as laser surgery are quite effective for you. The process does not need open surgery which can be very frightening and painful.
Performed under local anaesthesia
The surgery is performed under local anaesthesia, which means there are no side effects. The process can be done with minimal risk and discomfort to the patient.
In laser surgery, there is very little blood loss. No cuts are made. The involved blood vessels are coagulated using the laser, which used to be done manually in the open procedure. There is very little blood loss as a result.
Minimal damage to surrounding tissue
In the hands of the right laser surgeon in Kolkata, there will be minimal damage to the surrounding tissue. Laser beams are very precise and accurate so it means there is very little damage to the surrounding tissue.
Minimal pain and discomfort
There is very minimal pain and discomfort using this procedure. Post the conventional surgery, there is a lot of pain and discomfort for the patient, however, post the laser surgery there is very little pain or discomfort.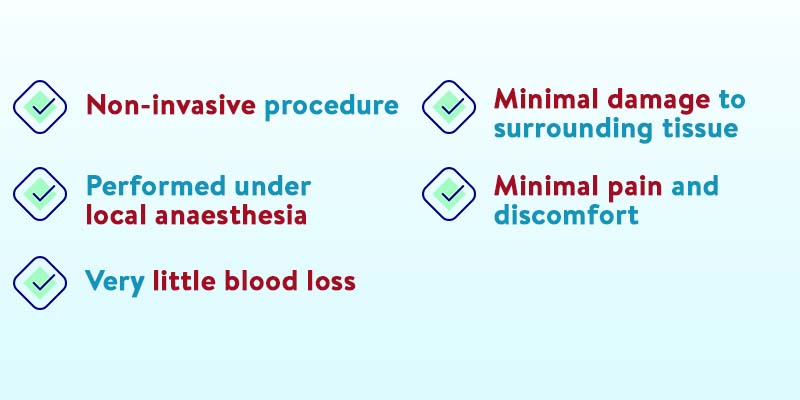 Conclusion
To opt for the best laser surgeon in Kolkata, get in touch with Dr. Purnendu Bhowmik. In case you are suffering from piles, first visit Clinica Health and get your problem looked at, then you can decide which type of surgery you want to opt for.